How Green can you be?
We live in age where it is important to do all that we can to 'save the planet', in addition to the ever present desire to minimise our living costs.
Building standards have improved over time but inevitably there are older homes that, while attractive and desirable in so many ways, are not quite as kind to the environment and the planet as they could be. So what can be done to bring your mature home that bit closer to being an 'eco-home'?
'Many things' is the answer! There are the obvious ones that usually call for considerable financial outlay but will pay huge dividends over time. These are principally about conserving heat and creating your own electricity in an environmentally friendly way.
More insulation in the roof space is always a good first step, the current recommendation is for a depth of 250mm to 270mm, for a blanket style glass or mineral wool and then cavity wall insulation is another useful step, taking care to ensure that the best tried and tested materials are used in its application – Expanded Polystyrene Beads and Polyurethane foam are accepted as safe and reliable.
Double or triple glazing will make an enormous difference, as vast quantities of heat are lost through single glazed windows and if you have a south facing roof slope the installation of photovoltaic tiles or solar panels to generate electricity, will add to the green credentials of your home.
To install a form of heating such as air source or ground source heat pump that are not reliant on fossil fuels (other than minimal electricity usage) almost guarantees the eco status of a home but is not always practical as a retro fit and the same applies to mechanical heat recovery system's so often found in new build 'eco' homes.
In addition to the above mentioned substantial improvements, that are all likely to increase the desirability and saleability of a home, there are a myriad of small changes that we can all seek to make in the way that we live our lives, that will collectively make a major contribution to improving the environment for the next generation and thus prolonging the life of this beautiful planet.
Water:- It is surprising to learn that just 2.5% of the water on the planet is fresh water and a large proportion of that is frozen or found far underground. It is important then that we all do our bit to conserve water wherever possible e.g. don't leave the tap running whilst you brush your teeth, use the short flush whenever possible, shorten your time in the shower by one minute saves a surprising 10 litres of water and a 5 minute shower uses 40% less water than a bath. Perhaps contrary to popular belief, the dishwasher on a good ECO setting is better for the environment than conventional washing up!
Home Heating:- Is responsible for almost 20% of the UK's greenhouse gas emissions, so even without replacing the heating system there are things we can do to help. Turning down your thermostat by just one degree could save up to £80/year. Where you have radiators fitted with thermostatic valves, turning radiators off or even down in little used rooms will help. Wearing another pullover or using a thicker duvet might mean the heating need not be on at all, if you really mean business!
Electricity:- Can be saved very easily, by remembering not to leave your devices on standby which can save up to £30/year and using energy-efficient LED light bulbs can save about £40/year. Consider switching to renewable electricity and green gas – leading providers include Bulb, Octopus Energy and Ecotricity. By using a green provider the average home can prevent 1.5 tonnes of CO2 entering the atmosphere. A smart meter can be helpful too by clearly showing how much electricity is being consumed.
When reaching for your smart device and heading for the ubiquitous Google search engine, perhaps pause for a moment and consider using the 'Ecosia' search engine, which commits 80% of its profits to reforestation projects. Thus far it has helped to plant more than 70 million trees.
Avoid products using Palm Oil wherever possible as recent research shows that the equivalent of 300 football fields of forest are destroyed every hour in order to produce palm oil.
Interested in living in an Eco Home?
WEST–The Property Consultancy have been, and continue to be heavily involved in the marketing and sale of sustainably built ('Eco') Homes. Below is just a select few, which are either currently For Sale, or have indeed sold. For more information on buying or selling a sustainably built ('Eco') Home, don't hesitate to get in contact with us on either Oxford:- 01865 510000 or Wantage: - 01235 772299.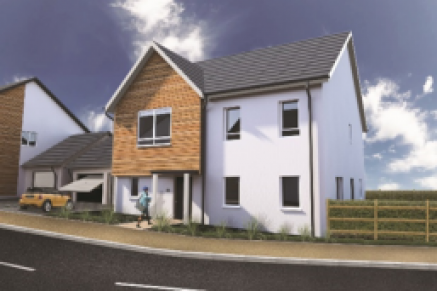 Kings Farm Close is a small unique development of nine high performance eco homes built by specialist Oxfordshire builder Greencore Construction. These homes are designed for the ultimate living comfort and will all include: Very low heating requirements (targeting Passivhaus thermal performance) with EPCs expected at B, resulting in low energy costs; Near Zero carbon footprint through the use of the Biond construction system utilising natural materials; High air tightness to minimise heat loss; Mechanical Ventilation and Heat Recovery (MVHR) system to deliver fresh air into each house, and to remove stale and moist air, recovering heat from the air removed. This ensures a comfortable and healthy living environment, while enhancing energy efficiency; underfloor heating; triple glazing throughout; LED lights throughout; wiring installed for electric vehicle charging and external landscaping, designed to raise the biodiversity of the green space including wildflowers and fruit trees for shared consumption. PRICES FROM: £345,000
Eaton Court, Cumnor Hill, Oxford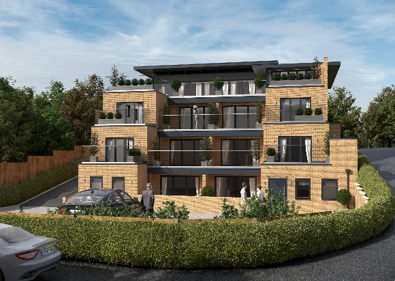 Substantial apartments are a rarity in Oxford and Mark Lawrence Contemporary Living has created a stylish new and exclusive contemporary apartment building containing just 6 beautifully appointed apartments on leafy and much coveted Cumnor Hill. All with outdoor spaces and all in a high-performance building with each apartment having an air source heat pump powering under floor heating and domestic hot water systems. PRICES FROM: £525,000
The Paddocks, High Street, Sutton Courtenay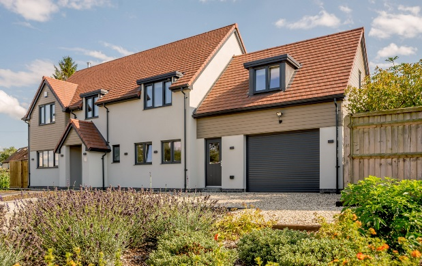 A small intelligently conceived development of advanced detached 'eco' houses located in this popular South Oxfordshire village, featuring up to the minute building technologies such as thermally efficient SIPS (Structural Insulated Panel System), heating and hot water powered by air source heat pump, mechanical recovered heat ventilation systems, internally conditioning the air and using the latent heat for re-distribution. PRICES FROM: £950,000
The Ridings, Bullockspit Lane, Southmoor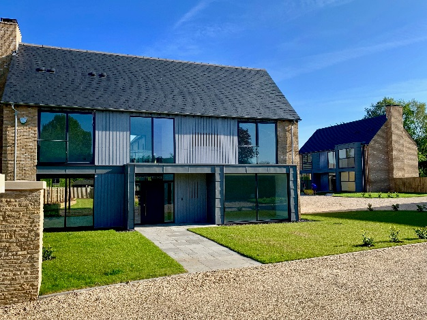 The Ridings is a uniquely styled development of just four contemporary "barn" style properties of great scale by John David Homes, in a discreet leafy bridleway setting on the edge of this well served village. Sustainably constructed and featuring technologies such as a heat recovery system, and hot water and heating systems powered by air source pump. Each property features a stunning German built fully integrated kitchen, high ceilings and wonderful levels of light throughout given the liberal use of glazing. PRICES FROM: £1.175 Million
Blandford Avenue, North Oxford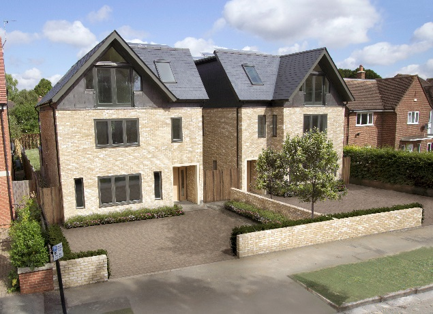 Two advanced "zero energy" technology detached houses located in North Oxford featuring air source heat pumps, SIPS building system, rainwater harvesting, photovoltaic solar panels and solar thermal hot water system assisting the air source heat pump. These homes were created by sustainability supremo's HOMESPACE and can be found from time to time now on the residential re-sale market.
Tinson House, High Street, Sutton Courtenay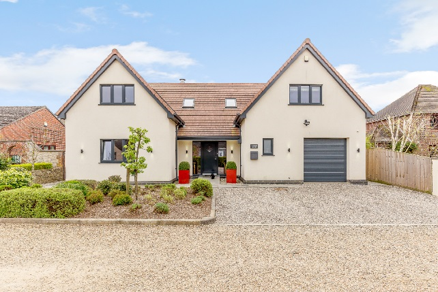 Tinson House was built as a private commission in 2011 and features a host of sustainable building technologies including heating and hot water powered by a ground source heat pump, mechanical heat recovery and ventilation system internally conditioning the air and using the latent heat for re-distribution. In addition there is a photovoltaic solar panel system and the house is constructed using the highly thermally efficient SIPS building technology. Internally the house is very stylish with a contemporary edge, exemplified by features such as the architectural staircase, the suspended wood burning stove in the sitting room and the clean lines of the bespoke fully integrated kitchen. The house is triple glazed, and also benefits from a central vacuum system and under floor heating. The same developer is now developing The Paddock development close by for occupation in 2020, as described above.
Chapel Lane Courtyard, Chapel Lane, Northmoor
A super efficient newly constructed house by Jack B.Homes in a discreet location within this highly regarded small West Oxfordshire village. One of three detached houses with private gardens, a very nicely detailed interior with contemporary fully integrated kitchen and well appointed bathrooms. The house features Atamate Building Intelligence, which ensures extremely low running costs and supports smart home technology. Cart shed style garaging. The property comes with a share in the very highly regarded village owned 'Gastro' pub. (TOTAL FLOOR SPACE: 1535 sq ft/143 m2)
PRICES FROM: £675,000
CAN I TURN MY CURRENT HOUSE IN TO AN 'ECO' HOME
The answer to this is yes, albeit the performance of every house will depend upon its construction and thermal efficiency but there are many things that can be introduced, to significantly improve the performance of your home. One such company who have gained a reputation for 'retrospectively' upgrading existing housing stock is Atamate, who specialise in intelligent building systems and who are well worth researching and contacting: www.atamate.com
IF YOU ARE INTERSTED IN BUYING A SUSTAINABLY BUILT ('eco') PROPERTY or YOU HAVE ONE TO SELL:- Call WEST-The Property Consultancy for advice from people who understand this specialist market place on Oxford: 01865 510000 or Wantage: 01235 772299