London Marathon has postponed the 2020 event, which was scheduled to take place on Sunday 26 April until Sunday 4 October 2020.
Helens training continues....
I'm Helen Townsend, Lettings & Management Administrator at WEST-The Property Consultancy. I've worked at WEST-The Property Consultancy for 3 years. I tell my story about training for the London Marathon below.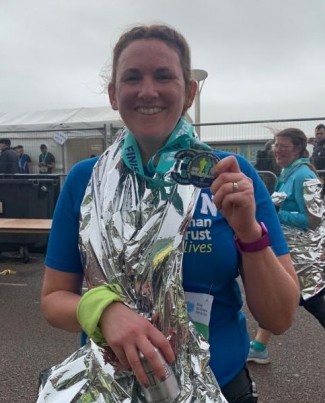 As if working in a busy Lettings Team and having 3 young girls wasn't enough - Back in May 2019, I was asked by The Newman Trust if I would be interested in running the London Marathon – and before I even knew what I was saying, I'd said yes!
When I came away from the meeting, I thought to myself, "What did I say that for? I can't run, I've never even run before, the only run I'm used to doing is the school run!..." (at times during training I've questioned which one is most challenging!)
I then thought, "Oh well, they have loads of people interested, so ultimately they won't pick me..." Fast forward to August, and I was one of the chosen ones - gulp!
Marathon Training begins

So, the next question - What do I do now? I put these thoughts aside, and thought about how I was running for an amazing cause, and that if I am going to run the London Marathon, I couldn't think of anyone or any charity more deserving.
Step One - I downloaded a training plan just to get me to the finish line! I looked and thought, well on paper, I can do it! I've just got to be dedicated and put in the practice- but that's easier said than done.
Step Two - Dust off the training shoes! A friend of mine organises a local running club, so I thought I would go along and see how I get on…
Week One
I couldn't believe it - I could barely breathe. I'm pacing around Abingdon thinking "I can't even run a mile… the marathon 26.2 miles… this is insane, another fine mess I've got myself into!"
However, I ran more than I expected that night and wasn't put off, thanks to the encouragement of everyone at the Abbey Running Club and of course my family and friends.

Week after week, I've been going back to running club on a Monday evening (barely missing a week), I'm sure boring my work colleagues the next day telling them how far I've run and how slow I was or what my personal best (PB) is!

It's not been easy though - finding the time to train after a busy working day, juggling a busy family life and tackling dark, wet nights wasn't exactly appealing. However, I'm lucky to have the support of my family and friends who have all been so encouraging and on hand to help out with babysitting and some have even joined me on a run, so that I can get the miles in.

I am hoping to enjoy this experience as much as I can, and will do my very best for myself, my family and friends and most importantly The Newman Trust.
Who are The Newman Trust?
The Newman Trust is an entirely voluntary organisation, providing summer holidays for children with special needs.
For 1 week a year over the summer, The Newman Trust run a summer camp. My daughter has been lucky enough to go on one these camps and to us The Newman Trust have been an extension of our family. My daughter is always in her element with all of the thoughtful, fun and exciting activities that are planned into the jam-packed week. She has gained confidence and made some wonderful memories and friends.

The Newman Trust is an entirely voluntary organisation and owes its success to over 200 people who dedicate their free time to helping these children. This voluntary structure ensures that every penny raised goes directly towards a child's holiday.
If you are able to, both I and The Newman Trust would be so very grateful for your donation, for every single penny counts.
WEST-The Property Consultancy are proud to be sponsoring Helen, supporting her journey every step of the way. If you'd like to support Helen, you can donate here.